CMHC stands by forecast for sharp price drop in Canada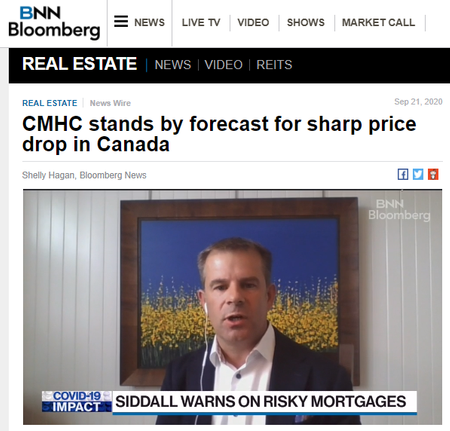 Canada's federal housing agency is sticking to its pessimistic forecast for the future of the country's housing market, citing "tremendous" risks from the COVID-19 pandemic.
Canada Mortgage and Housing Corp. forecast in May that average prices would fall between 9 per cent and 18 per cent from pre-pandemic levels before beginning to recover in the first half of 2021. Chief Economist Bob Dugan reiterated that forecast, though he cautioned that it's difficult to predict the "peaks and troughs" and there are many moving parts.
Original Article Source Credits: BNN Bloomberg , https://www.bnnbloomberg.ca/
Article Written By: Shelly Hagan
Original Article Posted on: Sep 21, 2020
Link to Original Article: https://www.bnnbloomberg.ca/cmhc-stands-by-forecast-for-sharp-price-drop-in-canada-1.1497129
---
---